Tonight's post is a bit of bunch of odds and ends. Little scraps I've been meaning to post, but not worth a title all of their own.
*************************************************************
Firstly, thank you all so much to everyone who commented on my Smug/Crap list post. It's so lovely to get such bloggy-love,and see such support from Mums - no bitchy judgement here girls! I'm glad to see a few Mums who have decided to post their own lists, I really look forward to reading your posts, and hearing about your proud achievements (and commiserating over the stuff that didn't go exactly to plan!).
*************************************************************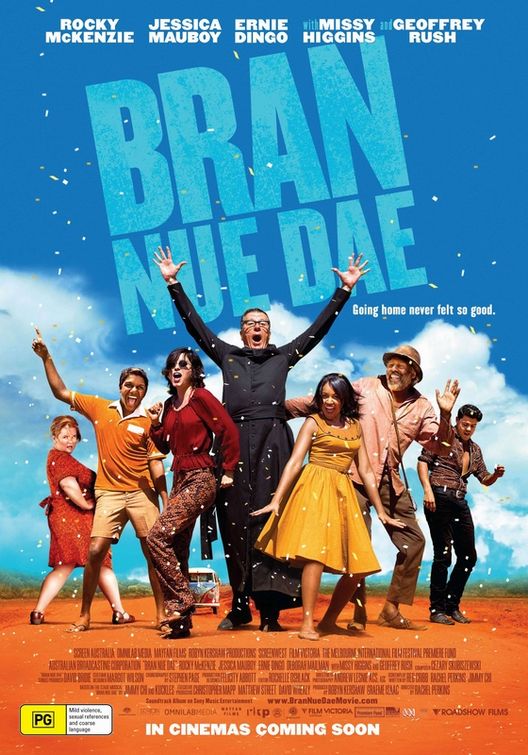 I went to see the movie
Bran Nue Dae
today. I really enjoyed it... sure it has a very convenient ending, heavy on the cheese factor, but it has a joyful, exuberant feeling, some catchy songs and Geoffrey Rush. It also stars Jessica Mauboy (Australian Idol), Ernie Dingo and Missy Higgins, along with a guy called Rocky McKenzie as the main lead. It's nice to see an Australian movie in mainstream cinemas, and it's also nice to see a mainly indigenous cast. Yeah, and it neatly glosses over a lot of the negative history of European treatment of Aborigines, but it touches a little on that treatment via the catchy main recurring song (which I'm still singing) and also alludes to the magic and power that comes from an ancient culture. What it doesn't contain is an explanation for the appaling spelling of the title.
***************************************************************
Whilst I was writing the above, a caught a 'sneak peek' of one of the new shows showing on Channel 9 this year...
V
.
Is it just me, or does anyone else remember a TV show back in the '80's called this, with an alien race that looked exactly like humans, til they peeled their skin off and they were serpentine and scaly? Yes? No? Maybe the TV exec's think we have a short memory when they market this as a brand new show?

Image from here
**************************************************************
Oh! I got a lovely award today from
Dual Mom
, unfortunately, she didn't tell me what it's called... but here it is!
According to the Rules, I have to name 10 Things That Make Me Happy, then pass the award on to 10 bloggers. As I have blathered on at length on a similar vein before, I have decided to keep my answers to one-word responses:
Giggles
Moscato
Books
Cuddles
Fishies
Grins
Chocolate
Sleep
Endorphins
Comments
So I'd like to pass this award onto the following people, all sweet, with varying levels of spice added!
Sharni at Chronicles of Sharnia - a blogging dynamo, future face of NRL and nemisis of Jon Stevens :o)
Caitlyn Nicholas, my muse for all things cooky, chooky and booky.
Katherine Jenkins from Lessons from the Monk I Married - she is who I want to be when I grow up.
Daffy from Batcrap Crazy - she's who I want to be til I grow up. :o)
Alex at Whoa Mumma - one of my first followers, and still keeping me laughing.
Adrienzgirl at Think Tank Momma - sassy, smart and full of useless trivia.
LiLu at LivIt LuvIt - the inventor of TMI Thursday, which I keep meaning to do... hmm.. must get on that train...
Mari-Anne at Counting Coconuts - my inspiration for great playtime activites and Montessori Mumma!
Alliecat at In a Beautiful Pea Green Boat - lovely blogger, and very crafty too!
Cat at Wouldn't it be Loverly - reminding me to make my surroundings beautiful, and showing me some great stuff to do so!


Phew! Done!